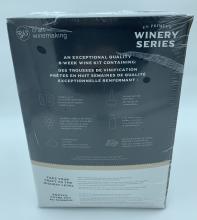 PLATINUM - En Primeur Winery Series Spain Grenache Syrah
A nose and palate brimming with spicy black pepper notes, dried dark fruit, earth, and a hint of tobacco with a lengthy and elegant finish.
Fermenting your wine on GenuWine Winery Crushed Grape Skins will enhance the bouquet and contribute soft velvety tannins for a round, juicy mouthfeel.
Serve with grilled onion and sausage paninis or rigatoni and creamy tomato sauce.
Weeks 8
Varietal Grenache Syrah
Sweetness Dry
Oak Medium
Body Medium
Labels included Yes