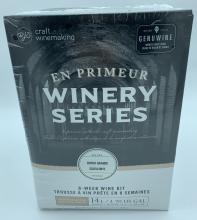 PLATINUM - En Primeur Winery Series Italy Valpola
A fruit forward nose with aromas of raisins, dark cherries, and toasted oak.  Notes of sweet chocolate, prunes and firm tannins grace the palate.
Fermenting your wine on GenuWine Winery Crushed Grape Skins will enhance the bouquet and contribute soft velvety tannins for a round, juicy mouthfeel.
Tastes great with stuffed mushrooms or veal parmigiana.
Weeks 8
Varietal Valpola
Sweetness Dry
Oak Medium
Body Medium
Labels included Yes