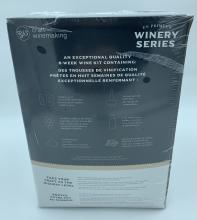 PLATINUM - En Primeur Winery Series Italy Pinot Grigio
Opens with citrus, floral, and pear notes.  Hints of citrus and green apple on the finish.  The palate is elevated with its perfect harmony of fruit and crisp acidity.
Tastes great with grilled halibut, buttery shrimp, or a light crap salad.
Weeks 8
Varietal Pinot Grigio
Sweetness Dry
Oak Unoaked
Body Light 
Labels included Yes